Description

Foxwell GT90 Max Automotive Scan Tool Diagnostic Scanner with ECU Coding, Bi-Directional Control, Brake Bleed, Oil Reset, ABS, SRS, DPF, EPB
Solid and Compact Design:
-With 12.2-inches touchable screen is more suitable to carry for on-site service.
-Windows 10 Based 12.2 HD IPS (1920* 1200)
-Dustproof and waterproof Level: IP65
-10000mAh rechargeable battery (up to 9 hours battery life)
-64 GB storage capacity
-New UI interface and thousands of DTC tips, etc.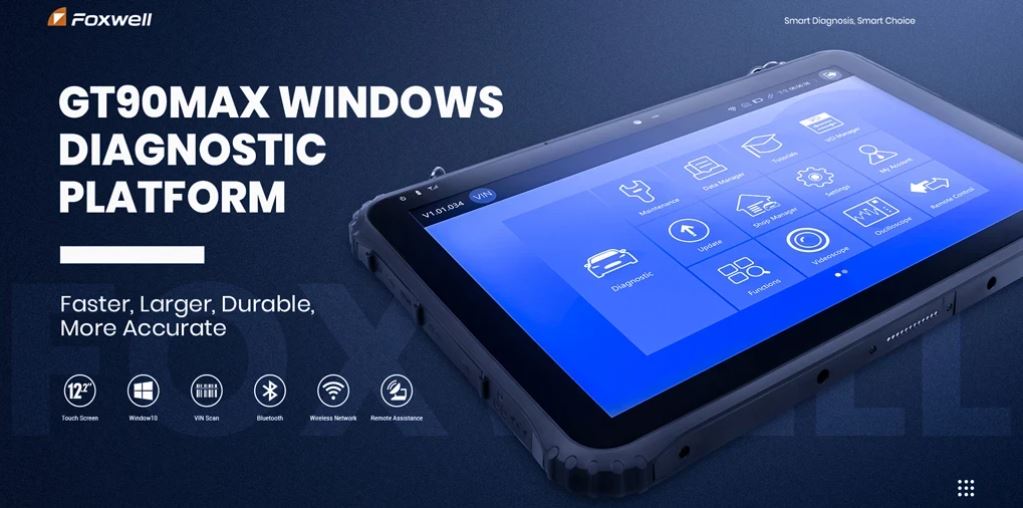 ALL SYSTEM DIAGNOSIS SCANNER FOR 80+ MAKES:
Foxwell GT90 Max diagnostic scanner works on over 90 car makes and 10000 models to read/erase codes, view live data, do active test and service functions in all vehicle systems, including ECM, TCM, ABS, SRS, BCM, IMM, BMS, TPMS, SAS, Fuel System, Light System, Wiper System, etc, gives your car a full detection.
RESET + INITIATION + ADAPTATION + MATCHING + CODING:
Foxwell GT90 Max supports Auto VIN Detect, ECU Coding, Gear Reset, SAS Reset, TPMS Reset, DPF REG, Key Coding, BMS Reset, Throttle Matching, Oil Reset, ABS Bleeding, Brake Reset, Injector coding, helping you safely and effectively access to the vehicle systems to reset partial parameters' status after repair and maintenance work.
ACTIVE TEST (Bi-directional Control) + DATA RECORD & PRINT:
Foxwell GT90 Max diagnostic tool features Bi-Directional Control (Active Test) to request information or command a actuator to perform specific tests, such as turning the fuel pump on and off, cycling the a/c clutch on and off, performing an evaporative emissions leak test. Foxwell GT90 Max also supports Remote Diagnostic, diagnostic feedback and respond, Data Stream record and playback, Vehicle Health Report, Maintenance Help.
BLUETOOTH WIRELESS CONNECTION:
The Bluetooth connection feature allows you to view the diagnostic parameters while you are performing some specific repairs, without being limited by the short cable. Just plug the contained VCI box into the car OBD port, then connect it with GT90 Max through Bluetooth, you are able to diagnose car freely, either at your workbench or under the hood.
WIDELY VEHICLE COVERAGE:
Foxwell GT90 Max Diagnostic Tool supports 90 car brands, up to 10000 car models
American Cars:
Buick; Cadillac; Chevrolet; Chrysler; Dodge; Ford; GM; Hummer; Jeep; Lincoln;
European Cars:
Abarth; Alfa Romeo; Audi; Bentley; Benz; BMW; Bugatti; Citroen; Dacia; EU-Ford; Ferrari; Fiat; Jaguar; Lamborghini; Lancia; Land Rover; Maserati; Maybach; Mini; Opel; Peugeot; Porsche; Renault; Rolls-Royce; Rover; Saab; Seat; Skoda; Smart; Sprinter; Vauxhall; Volvo; VW; (UKRAINE) ZAZ; (RUSSIA) GAZ;IZH; PAZ;SEAZ;UAZ;VAZ
Asian Cars:
(JAPAN): Acura; Daihatsu; Honda; Infiniti; Isuzu; Jpisuzu; Lexus; Mazda; Mitsubishi; Nissan; Nissan GTR; Scion; Subaru; Subaru; Suzuki; Tlisuzu; Toyota;
(KOREA): Daewoo; Hyundai; KIA; Samsung; Ssangyong;
(CHINA): BJ Hyundai, BRILBMW, DF Honda, DYK, Ford CHINA, GQ Fiat, GZ Honda, Mazda CHINA, SAIC Skoda, SAIC VW, Toyota CHINA, FAW AudiI, FAW VW
(INDIA): Mahindra; Maruti; Tata;
(MALAYSIA): Perodua; Proton;
Supported Automotive Protocols:
ISO9141-2, ISO14230-2(KWP2000), SAE-J1850 VPW, SAE-J1850 PWM, SAE-J2740(GM UART), UART Echo Byte Protocol( SAE J2809, SAE J2818), Honda Diag-H Protocol, SAE J2610(SCI), ISO11898, ISO15765-4, KW81, KW82, GWM3809(Single Wire CAN), SAE J2819(TP 2.0), SAE J3054(TP 1.6), ISO11898-3(Low Speed Fault Tolerant CAN), SAE J2284(High Speed CAN)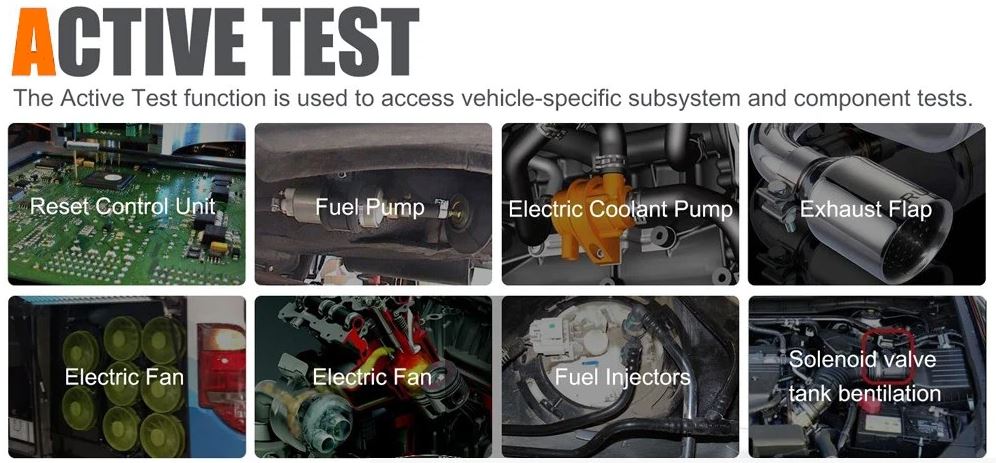 Access to Vehicle's All Modules:
With all system coverage, you will not have to purchase a separate device to perform different functions. The following is a list of modern vehicle systems that this scan tool can get access to:
Foxwell GT90Max Support All system
Engines / Auto Transmission / Airbags / Immobilizer / Key Coding / Anti Theft / Central Locking / ABS / Cruise Control / Instruments / Self Leveling Suspension systems / Air Suspension / Navigation System / Audio Systems Central Locking / Body Systems / 4WD System Stabilizer / Automatic Clutch / Clutch Electronics / Gateway
Seats / Seat Memory / Doors / Door Motors / Sliding Doors / Electric Windows / Heated Rear Window / Xenon Headlights / Headlamp Leveling / Wash Wipe / Steering Angle / Power Steering / Multi Function Steering Wheel / Electronic Power Steering & Motor Assisted / Tyre Pressure
Rain Sensors / Intelligent Parking Assist / Electronic Parking Brake / Air Conditioning / Tiptronic / Soft Top / DPF Reset / Plip Programming Fuel Burning Heater / Transfer Box / Oil Life Service Reset / Electronic Throttle / Rollover Sensor / Aux Heating...etc.
AUTO VIN Technology:
Foxwell GT90 Max is equipped with latest VIN-based Auto VIN Scan technology that can retrieve vehicle brand, make, model and year at a single touch.
AUTO SCAN Function:
The Auto Scan function performs a comprehensive scanning over all the ECUs in the vehicle to locate systems faults and retrieve DTCs.

ECU Coding:
Foxwell GT90 Max diagnostic scanner provides you with unparalleled ECU Coding, which is also known as Teach-in Program, Component Adaptation or something similar, addressing the following issues:

1.To perform the customer individual customization of the car such as setting alarms, doors locking, and outdoor lighting, etc., to improve vehicle performance, or stimulate high-end car functions.
2. By changing the code with the ECU coding, it's easy to improve vehicle performance or stimulate high-end functions for the car.
3. ECU coding enables multiple car systems to recognize each other and then the actuators can start to work.
Active Test:
With Activation Test of this tablet diagnostic scan tool Foxwell GT90 Max, you can access vehicle-specific subsystem and component tests, and output the command into the ECU in order to turn on/off actuators, to find faults in the subsystems of your car effortlessly. As a result, it is easy for you to identify whether a specific subsystem or component in your car performs well or not.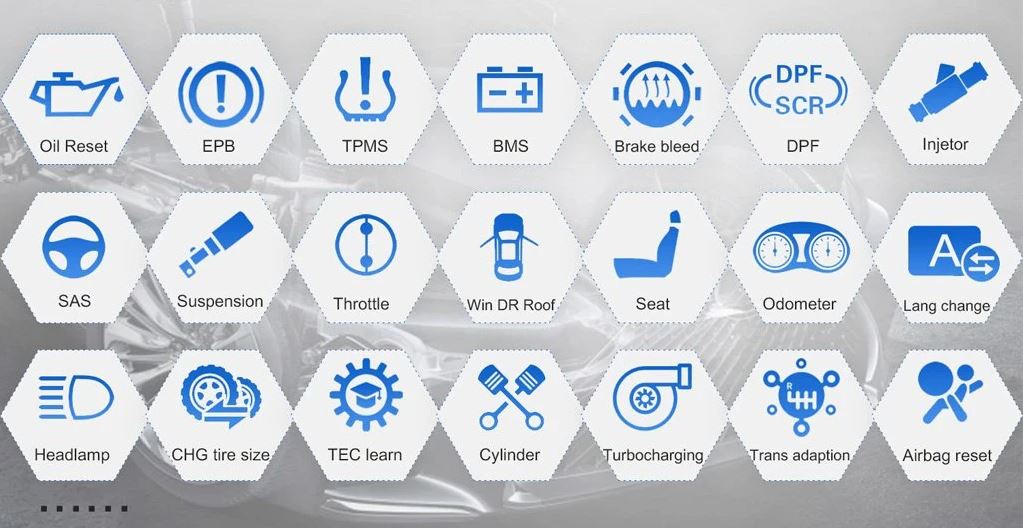 Data Record & Playback:
Foxwell GT90 Max diagnostic scanner allow you to view the Live Data Stream, and to record the data in Waveform. This would save you the hassle of reading through and digesting all the information which is being presented to you. You can even playback these data, for better analysis and rectification as well as the future use.
Powerful 25+ Special Service Functions:
The Service section is specially designed to provide you with quick access to the vehicle systems for various scheduled service and maintenance performances. By following the on-screen instructions to select appropriate execution options, the system will guide you through the complete performance for various service operations. The most commonly performed service functions include:
GT90 Max Support 25+ special functions
ABS Brake Bleeding to performs various bi-directional tests to check the operating conditions of Anti-lock Braking System (ABS);

1. ABS Test – tests ABS motors, solenoids, solenoid enable relays, EMBs, and more.
2. ABS Version Test – displays the name of the brake system and the ABS controller version number, software ID, and sequence value.
3. Actuator Test – tests AYC valves, inlet valves, outlet valves, pump motors, and TRACS valves.
4. Auto Bleed Test– removes air from the internal brake fluid chambers after servicing the brakes
EPB Reset to Allows you to perform the service and maintenance of brake systems, including:
1. Deactivation and activation of the brake control system;
2. Bleeding brake fluid;
3. Opening and closing brake pads;
4. Setting brakes after disc or pad replacement
Oil Reset to reset service mileage and service interval for the engine oil life system and clear the oil warning light;
SAS Reset to perform calibration for the Steering Angle Sensor and clear steering sensor fault memory;
TPMS Service to Allows you to check the tire sensor IDs from the vehicle ECU to perform TPMS programming and reset procedures after tire sensors are replaced or tires are rotated.
BMS Service to perform a reset on the vehicle battery for clearing the fault information and re-matching the battery;
DPF Service to Performs DPF Regeneration to clear the blockage through continuous burning of the particulate matter captured in the DPF filter and turn off DPF light;
Gear Learning to make new crankshaft position sensor adaptive learning.
Throttle Matching to initialize the throttle actuators to the default state for regulating throttle (or idle engine) operations accurately;
Injector Coding to reset and match the date after injector is replaced to let new injectors function well;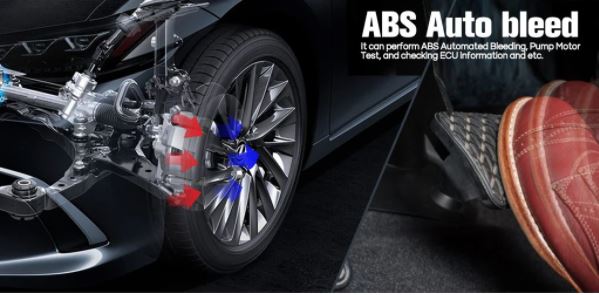 Practical Remote Diagnosis:
Foxwell GT90 Max Scan tool provides practical remote diagnosis, user can ask for the remote control through phones, tablets, and computers etc. It has realized the reality that a mechanic can diagnose an abnormal vehicle which is even thousands of miles away.
Payment & Security
Your payment information is processed securely. We do not store credit card details nor have access to your credit card information.